Bloomfield Hills Basement
Waterproofing
Tired of dealing with a wet, musty basement? Let Rid-A-Leak Bloomfield Hills Basement Waterproofing help you turn your basement into a dry, usable space. We offer a variety of basement waterproofing solutions to fit your needs and budget.
In case your basement is struggling with moisture issues, Rid a Leak is here to help you out with decades of experience and necessary knowledge.
Offering Expert Advice with a
Professional

Touch
Water damage is a well-known and possibly costly problem that causes decaying wood, peeling paint, mold development, and other structural issues. Rid A Leak provides foundation and basement waterproofing services in Bloomfield Hills to protect your home or company from these serious issues.
Our team of professionals is committed to reducing the harm that might result from insufficient foundation sealing and drainage. We ensure that your foundation is adequately waterproofed by utilizing our considerable expertise, high-quality products, and experienced craftsmanship. By committing your project to Rid A Leak, you will have the peace of mind that your house is safe from foundation leaks.  You can rely on us for trustworthy and competent solutions that prioritize property protection.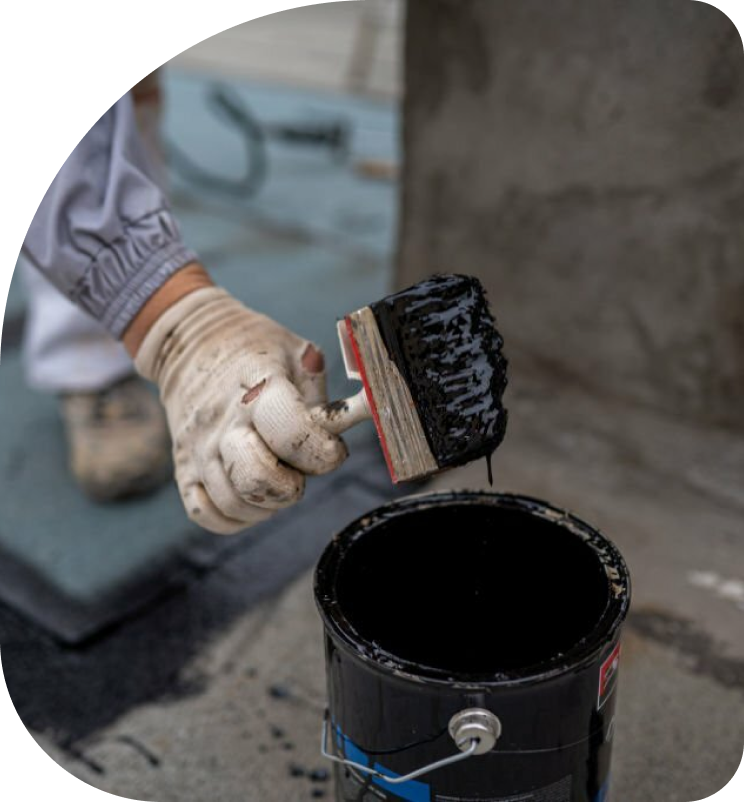 Give us a call today because we promise to give you a free estimate!
#1 Bloomfield Hills
Waterproofing

Experts
Have you considered that the cost of repairing water-damaged foundations far exceeds the investment in waterproofing your basement, crawlspace, and other key areas of your residence or commercial space? Ensuring the waterproofing of your foundation is an essential step in safeguarding your Bloomfield Hills property.
The unique topography and drainage challenges in Bloomfield Hills and its neighboring regions make properties susceptible to water damage. Water infiltration can result in structural deterioration and even foundation cracking, ultimately compromising the overall stability of your structure. Don't worry; Rid A Leak has you covered for all your residential and commercial waterproofing needs.
I can't thank Rid a Leak Bloomfield Hills Basement Waterproofing enough for their exceptional service. I was dealing with persistent basement leaks for years, and it seemed like a never-ending battle. Their team conducted a thorough assessment, pinpointed the problem, and provided a customized solution that was well within my budget. The work was completed professionally, and since then, I haven't had a single issue. My basement is dry and secure, and I can finally put my worries to rest. I highly recommend Rid a Leak to anyone facing basement water problems. They truly changed the game for me!
I had been searching for a reliable basement waterproofing service for a while, and I'm so glad I found Rid a Leak Bloomfield Hills Basement Waterproofing. From the moment I contacted them, their team was attentive, professional, and highly knowledgeable. They offered a detailed estimate, and once we agreed on the plan, they got to work promptly. The entire process was seamless, and the results were outstanding. My basement is now free from moisture, and I no longer stress about potential damage. Rid a Leak is the real deal, and I couldn't be happier with their service!
I was skeptical about hiring a basement waterproofing company, but Rid a Leak Bloomfield Hills Basement Waterproofing completely exceeded my expectations. Their team, led by Dan, was not only skilled but also very friendly. They took the time to explain the entire process, answered all my questions, and provided a competitive quote. The work was carried out with precision, and the results speak for themselves. Since their waterproofing solution, I've had a bone-dry basement, and I couldn't be happier. Rid a Leak is the go-to choice for anyone looking to protect their basement. I'm extremely satisfied with the service they provided.
We take pleasure in our streamlined, hassle-free method that provides a dry and safe basement for years to come at Rid a Leak Bloomfield Hills Basement Waterproofing.

Thorough Inspection
Our trip begins with a thorough examination of your basement. We thoroughly investigate for the core cause of moisture intrusion, leaving no stone unturned. The first step in providing effective, long-term treatments is identifying the problem.

Make an Appointment
You can simply schedule an appointment with us after getting a quote. We know how precious your time is, so we work with you to find a time that works for you.

Professional Waterproofing
Dan, our professional waterproofing specialist, will arrive on time and precisely perform the waterproofing operation. Dan's years of experience guarantee that the job is done correctly, leaving you with a dry and secure basement.
See the latest waterproofing transformations by RID A LEAK in Bloomfield Hills. Don't wait, secure your basement's future now with our proven solutions!
Is water seeping into your basement? Don't ignore it! Contact Rid-A-Leak Bloomfield Hills Basement Waterproofing today for a free inspection and estimate. We'll find the source of the leak and fix it quickly and efficiently, so you can enjoy a dry basement all year long.
Don't let a damp basement ruin your home's value and comfort.
Contact Rid A Leak
Bloomfield Hills Basement

today for a free basement waterproofing inspection and quote.