Most Trustworthy Basement Waterproofing
Services In Northville
Rid a Leak is offering basement waterproofing services that you can trust because you deserve a dry basement!
Moisture is the worst enemy of your basement and home, which is why you should fill out this form, and we will handle all the moisture issues in the quickest manner possible.
Three
most common

sources of water leakage in basements
Groundwater in water-saturated soils that is drawn to your drain tile system which is clogged and as the water is in the pea stones that are higher than your floor seeps in where the floor meets the wall.

Where is your
basement getting
leaked from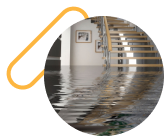 Delivering

waterproofing services with a 100% guarantee
Rid a Leak is offering a 100% satisfaction guarantee because we want to give you value for your money. Our services are available for clients in Northville as we have a team of waterproofing experts who have years of experience in handling flooded basements. Also, our team is always available on time, promising punctuality.
To deliver the best results, we source premium waterproofing materials and state-of-the-art equipment, which empower us to meet and exceed your needs. Our team will conduct the waterproofing without damaging your home's interior walls as we work exteriorly – you don't have to worry about ruining your home's aesthetics.
Give us a call today because we promise to give you a free estimate!
Helping

homeowners enjoy a moisture-free basement
Rid a Leak is committed to offering the best waterproofing services in Northville because we want to create a balance between effectiveness and efficiency. For this reason, we have invested in reliable technology and high-quality material that helps us complete waterproofing within a few business days. Once we are done with waterproofing, we promise a moisture-free basement for decades!
I wanted a reliable waterproofing company for my home in Franklin, and I am lucky to have found Rid a Leak. They did amazing work, and I was so glad they completed the work within the promised time.
I was looking for a company that was passionate about the waterproofing work, which is when I came across Rid a Leak. They delivered reliable and high-quality basement waterproofing, and I don't have to worry about the moisture anymore.
My basement was struggling with mold growth because of moisture buildup. I didn't know how to solve it, which is why I contacted Rid a Leak, and they made sure I don't have to worry about purchasing a dehydrator!
Our basement waterproofing process involves thorough inspection, identifying the root cause of moisture, and implementing effective waterproofing solutions tailored to your home, ensuring a dry and protected basement for years to come.

Get in touch
Give us a call and tell us the problem that you're facing to get a free stimate.

Set up a time
After receving a quote, book an appointment with us that matches your schedule.

Waterproofing
Our waterproofing expert Dan arrives at your location & completes the waterproofing process.
Happily ever after
We have never had a callback or complaint in 25 years, and we plan to keep it that way forever.
Rid a Leak is committed to creating a reliable and convenient client experience, which is why we have launched a three-step process to fix the basement!

Inspection & Assessment
Our team understands the importance of conducting thorough inspections and assessments before beginning the waterproofing process. During this process, we carefully examine your home structure. Once the inspection is complete, we will create a report outlining the issues.

Preparation
We take the preparation phase of our waterproofing project seriously. We clear the basement of debris and create a level surface for waterproofing to begin. In addition to physical preparation, we also take care of administrative tasks such as getting permits, licenses, and certifications.

Waterproofing
At Rid a Leak, we use different methods, including membranes, coatings, and sealants, to protect your basement from water or moisture. This helps us create a barrier to ensure there are no moisture or mold development issues. After completing the waterproofing process, you can begin appreciating the work because you will want to. So, are you ready?
Our years of experience allow us to meet different waterproofing needs of your basement, and we have the following work to show – we have done these projects only recently!
Now, if your basement is in need of help and you don't want your basement to be filled with mold, Rid a Leak will always be here for you!
So, just give us a call for free consultation, and we will create a personalized plan that aligns with your basement needs!
The Most Trusted Basement Waterproofing Service in
Northville