Remarkable Basement Waterproofing
Services In Brighton
Rid a Leak is here to take all your basement issues away because we have the best waterproofing services that will leave you stunned and at peace.
In case your basement is struggling with moisture issues, Rid a Leak is here to help you out with decades of experience and necessary knowledge.
Three
most common

sources of water leakage in basements
Groundwater in water-saturated soils that is drawn to your drain tile system which is clogged and as the water is in the pea stones that are higher than your floor seeps in where the floor meets the wall.

Where is your
basement getting
leaked from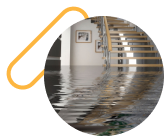 Promising
Exceptional

Waterproofing To Every Client
At Rid a Leak, we have become a leading company offering basement waterproofing services in Brighton. We have decades of experience under our belt, and we are committed to 100% customer satisfaction and excellence. We have skilled professionals on our team who work with us to ensure the basement is free of damage and fully dry.
We leverage advanced technology and top-notch materials to deliver the best results. We acknowledge that moisture can be a serious problem for homeowners as it can increase the chances of structural damage and lead to mold development. For this reason, we promise the best waterproofing services and take the job extremely seriously.
Give us a call today because we promise to give you a free estimate!
Helping

you get rid of the moisture and water issue in the basement
Rid a Leak is committed to offering full-range services, ranging from basement waterproofing to structural repair. We have free consultation sessions available to make sure we can discuss the best waterproofing plan that meets your needs. In simpler words, we are working with an aim to help you make the dream of a dry basement a reality.
My basement was flooded after last year's rain, and the walls were showing signs of mold too. I called up Rid a Leak, and they fixed the issue like never before. The results were exceptional!
Someone told me that my home's foundation was getting damaged because of moisture, and it was pretty scary. Rid a Leak helped me save the basement as well as the home foundation like no one else.
I was getting my home valued for sale, which is why I needed someone to waterproof the basement. Rid a Leak came through and saved my deal by ensuring zero moisture in the basement.
Our basement waterproofing process involves thorough inspection, identifying the root cause of moisture, and implementing effective waterproofing solutions tailored to your home, ensuring a dry and protected basement for years to come.

Get in touch
Give us a call and tell us the problem that you're facing to get a free stimate.

Set up a time
After receving a quote, book an appointment with us that matches your schedule.

Waterproofing
Our waterproofing expert Dan arrives at your location & completes the waterproofing process.
Happily ever after
We have never had a callback or complaint in 25 years, and we plan to keep it that way forever.
At Rid a Leak, we believe in offering convenience and peace of mind to our customers. That's why we have created a brief yet effective three-step waterproofing process to help you out!

Inspection & Assessment
The first step in our process is a thorough inspection of your basement. This allows us to identify any existing or potential water damage and lay out the best plan that resolves the water damage issue.

Preparation
After identifying the water damage issues, we will prepare the basement by sealing the cracks and installing a full-range drain system to ensure everything is repaired to perfection.

Waterproofing
The last and final step is waterproofing, with which we apply the waterproofing membrane to your basement walls and floor. In addition, we will install the vapor barrier to minimize moisture development. Once we are done with waterproofing, we will clear the basement by removing all the surplus material and equipment to ensure 100% client satisfaction.
Rid a Leak is committed to delivering extraordinary and reliable basement waterproofing service, which has empowered us to do the following work in the Brighton area.
In case you are struggling with water issues in the basement, we will help you out by creating a personalized plan that works out for your basement.
You can call us today, and we promise to give you a free estimate and assessment.
The Most Trusted Basement Waterproofing Service in
Brighton