Highly Focused Basement Waterproofing
Services In Hartland
Rid a Leak promises highly reliable and results-driven basement waterproofing services in Hartland.
Moisture can lead to mold development and damage your home's foundation, so just fill out this form, and we will create a customized plan for your basement.
Three
most common

sources of water leakage in basements
Groundwater in water-saturated soils that is drawn to your drain tile system which is clogged and as the water is in the pea stones that are higher than your floor seeps in where the floor meets the wall.

Where is your
basement getting
leaked from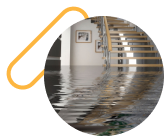 Promising

lifelong waterproofing services to our clients
Rid a Leak is committed to bringing change in the world, which is why we are offering basement waterproofing services in Hartland. We have procured the best team in industry – a team with decades of combined experience and necessary equipment to complete the job with maximum effectiveness in minimum timeframe.
Our team is available throughout the day, which means you can get your queries answered promptly. We have created relationships with quality material providers, so the waterproofing promises exceptional results. In addition, we have advanced technology that helps us find the source of moisture because we believe in killing the problem in its roots.
Give us a call today because we promise to give you a free estimate!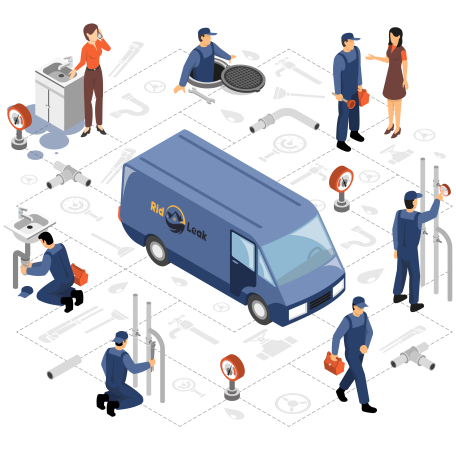 Helping

our clients protect their homes from mold & moisture
Rid a Leak is committed to helping our clients protect their homes from potential structural damage. In addition, we promise effective waterproofing results with the utmost focus on practicality. Our team is client-oriented, which is why we take a customized approach to every client and their home, promising top-notch results.
I needed a reliable company to fix the moisture issues in the basement because I had already experimented with a few. Rid a Leak really came to the rescue and saved the basement.
My basement was showing the signs of mold growth, which is when I called Rid a Leak. They helped locate the source of moisture and completed waterproofing to prevent the issue. True professionals!
Our home's structural integrity was in danger because of the recent flood. It also caused damage to the basement. I called Rid a Leak, and they created a full-range plan for me. They did an amazing job.
Our basement waterproofing process involves thorough inspection, identifying the root cause of moisture, and implementing effective waterproofing solutions tailored to your home, ensuring a dry and protected basement for years to come.

Get in touch
Give us a call and tell us the problem that you're facing to get a free stimate.

Set up a time
After receving a quote, book an appointment with us that matches your schedule.

Waterproofing
Our waterproofing expert Dan arrives at your location & completes the waterproofing process.
Happily ever after
We have never had a callback or complaint in 25 years, and we plan to keep it that way forever.
We believe in offering innovative and promising results to our clients, which is why we have created the three-step process that helps us achieve the best waterproofing results.

Inspection & Assessment
Before starting basement waterproofing, we conduct a thorough inspection and assessment of your basement. We take an in-depth approach to examine the basement with infrared cameras and moisture meters to identify the root problem.

Preparation
At Rid a Leak, we value the preparation phase of the basement waterproofing project. In this step, we will clear the basement to start the waterproofing process. In addition, if needed, we will gather all the necessary permits to start waterproofing in Hartland.

Waterproofing
The next and last step is waterproofing, which is why we use sealants, coating, and waterproofing membranes to create an effective and durable moisture barrier. Also, our team applies these materials with utmost accuracy because we want to help you keep water damage at bay. After completing the waterproofing, our team will clean the basement to ensure there are no compromises at your convenience.
Rid a Leak believes in serving all its clients in Hartland with ultimate focus and precision. This is why we are sharing our recent work, which is as follows.
In case your basement is showing signs of mold and there is moisture, it's time you protect your home and basement, and Rid a Leak will be here to support you.
You can give us a call today because we promise to provide free consultation!
The Most Trusted Basement Waterproofing Service in
Hartland