Excellence-Driven Basement Waterproofing
Services In Plymouth
Rid a Leak is committed to 100% customer satisfaction and years of the dry and moisture-free basement!
Moisture can damage the basement walls and your home foundation, so fill out the form and let us handle your worries with a personalized plan.
Three
most common

sources of water leakage in basements
Groundwater in water-saturated soils that is drawn to your drain tile system which is clogged and as the water is in the pea stones that are higher than your floor seeps in where the floor meets the wall.

Where is your
basement getting
leaked from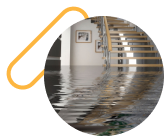 Promising
Reliable Waterproofing

To All Our Clients
Rid a Leak takes pride in offering reliable basement waterproofing services in Plymouth that give you the worth of your money. We have a team of skilled waterproofing professionals who understand the different dynamics of construction and waterproofing, so we can do an exceptional job without any delays. Our team will always create a unique waterproofing plan that addresses your basement issues specifically.
Our team members are available around the clock, which empowers us to complete your basement project in the promised time or less. Also, if you have some questions, our support team is only a call away, and we will keep updating you about the waterproofing process as well!
Give us a call today because we promise to give you a free estimate!
Let's protect

your basement from water damage
Rid a Leak believes in delivering effective results without compromising on efficiency and practicality. For this reason, we have invested in state-of-the-art equipment that helps us complete the waterproofing job within days. In addition, we use premium materials in Northville because we don't want you to waste your money!
We recently purchased a home, and we were stunned to see how the basement was literally flooded. I got in touch with Rid a Leak, and they fixed the problem within a week. Amazing job!
The moist basement was damaging our home's structure, so we were looking for a good solution. Luckily, I found Rid a Leak, and they helped me salvage my home, including the foundation and basement.
We had to sell out our home, but the bad condition of the basement was getting us a bad rate. However, Rid a Leak fixed the basement, and we got an offer of $50,000 more than the original price we wanted.
Our basement waterproofing process involves thorough inspection, identifying the root cause of moisture, and implementing effective waterproofing solutions tailored to your home, ensuring a dry and protected basement for years to come.

Get in touch
Give us a call and tell us the problem that you're facing to get a free stimate.

Set up a time
After receving a quote, book an appointment with us that matches your schedule.

Waterproofing
Our waterproofing expert Dan arrives at your location & completes the waterproofing process.
Happily ever after
We have never had a callback or complaint in 25 years, and we plan to keep it that way forever.
Rid a Leak is committed to delivering quality work, which is why we have created a comprehensive three-step process that helps us address the core problem!

Inspection & Assessment
Inspection and assessment are the first steps in identifying the source and extent of water damage in a basement. A thorough inspection involves examining the interior and exterior of the basement, checking for signs of moisture and water damage, such as damp spots, mold growth, and peeling paint.

Preparation
Preparation is the next step in the process of basement waterproofing. It includes preparing the basement for waterproofing by clearing our existing moisture and repairing any damage to the foundation or plumbing. We will fix leaks in pipes and seal cracks in the foundation.

Waterproofing
Waterproofing is the final step in our basement waterproofing process. It is all about applying a waterproof coating or membrane to the walls and floor of the basement to prevent water from seeping in. In addition, we will consider different types of waterproofing techniques to meet your needs. After waterproofing, we will let you take a look at the work. If you are fully satisfied, we will pack our bags and let you enjoy the basement.
We have decades of experience in the basement waterproofing industry, which is why we have worked on hundreds of projects in Northville. Take a look at our recent work!
So, if your basement has started giving you a tough time and you want to protect your home and its foundation, Rid is a call away.
Give us a call today to get a free consultation, and let us create a unique waterproofing plan that suits your basement's needs.
The Most Trusted Basement Waterproofing Service in
Northville