Exceptional Basement Waterproofing
Services In Michigan
EWS Exterior Waterproofing Service is a premium company offering exceptional services that's trusted by thousands of clients.
If your basement needs our help, just fill this form out to the best of your knowledge, so our team can get in touch with you!
Three
most common

sources of water leakage in basements
Groundwater in water-saturated soils that is drawn to your drain tile system which is clogged and as the water is in the pea stones that are higher than your floor seeps in where the floor meets the wall.

Where is your
basement getting
leaked from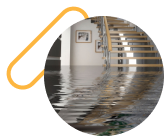 Promising Quality
Results

To All Our Clients
At EWS, we acknowledge that keeping your basement free of moisture and fully dry is important to keeping structural issues at bay. For this reason, we are offering high-quality waterproofing services in Michigan for your basement because we want to help you protect your home and buildings from mold growth as well as other water damage.
Our team is the most experienced in the industry, which is why we can handle exterior and interior waterproofing, installation of the drain system, and installation of a sump pump. In addition, we promise to use premium materials and advanced equipment to deliver quality results.
Give us a call today because we promise to give you a free estimate!
Helping

you increase your home's worth
We understand that choosing the best basement waterproofing service might be challenging, but EWS is dedicated to delivering services that help you increase the worth and value of your home in Michigan. We have decades of experience in the waterproofing industry, which allows us to handle projects of every scale. In addition, we use premium materials to deliver life-long results and a customized approach to handle your waterproofing needs.
My basement's walls were drenched in moisture, but EWS came to the rescue. They conducted an in-depth basement inspection to create the plan that worked for me.
It was hard for me to trust any waterproofing company because I had lost a lot of money to bad companies before. However, EWS proved me wrong because even after three years, I can't see a drop of water in the basement
I needed the waterproofing service, but I didn't want my home's interior to get damaged. Luckily, EWS helped by digging from the exterior and left everything clean and tidy. They did an amazing job!
Our basement waterproofing process involves thorough inspection, identifying the root cause of moisture, and implementing effective waterproofing solutions tailored to your home, ensuring a dry and protected basement for years to come.

Get in touch
Give us a call and tell us the problem that you're facing to get a free stimate.

Set up a time
After receving a quote, book an appointment with us that matches your schedule.

Waterproofing
Our waterproofing expert Dan arrives at your location & completes the waterproofing process.
Happily ever after
We have never had a callback or complaint in 25 years, and we plan to keep it that way forever.
At EWS, we have established an efficient process to make sure your basement is free from water damage and relevant issues. Our process includes

Inspection & Assessment
We perform a thorough inspection and assessment of your basement. This involves identifying the source of the water and moisture problems, evaluating the condition of your foundation, and assessing the overall layout of your basement.

Preparation
Once we've identified the issues, we'll begin preparing your basement for waterproofing. This includes removing any existing water, debris, or damaged materials. We'll also protect any areas of your home that can get affected during the waterproofing process.

Waterproofing
We will begin the actual waterproofing process. This involves interior waterproofing, exterior waterproofing, and sump pump installation. We'll use only the best materials and equipment to ensure that your basement is fully protected from water damage. After waterproofing, we will clean up everything and let you get back to decorating the basement however you want.
EWS has decades of experience working in the waterproofing industry, but some of our recent work include the following. So, take a look and decide for yourself!
So, if you are ready to fix the water damage and leaks in the basement, we provide the best waterproofing services in Michigan, and we are only a call away!
Call us today for a free consultation and inspection because we want to offer nothing less than the best!
You can call us today, and we promise to give you a free estimate and assessment.
The Most Trusted Basement Waterproofing Service in
Michigan